Veterinarians
Dr. Jonathan Fear

DVM, Medical Director
Dr. Jonathan Fear joined the Buckeystown Veterinary Hospital team as Medical Director in September 2022. He graduated from Virginia-Maryland College of Veterinary Medicine in 2019 and has experience with other rural mixed animal practices.
Dr. Fear primarily sees dogs, cats and ruminants and has a particular interest in soft tissue surgery, prevention and production management. He has a skill for explaining medical problems and solutions to clients in a way they can understand, so we are happy to have him onboard here in Buckeystown.
In his free time, Dr. Fear enjoys working on his home and yard, going to the gym and anything outdoors-related! He has one cat of his own named Pes.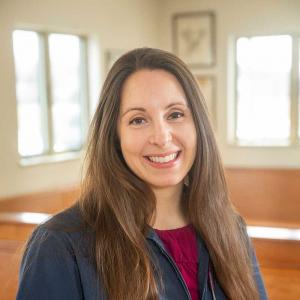 Dr. Mary Ann McKissick

VMD
A native of Harrisburg, PA, Dr. McKissick has always had a passion for animals and science, so a career in veterinary medicine was a natural fit for her. After receiving her Bachelor of Science degree from Penn State University, she went on to earn her veterinary degree from the University of Pennsylvania.
Prior to joining Buckeystown Veterinary Hospital in 2016, Dr. McKissick gained experience working at another mixed animal practice in York, PA. She specializes in internal medicine and farm animal ambulatory work. Dr. McKissick loves working with multiple species of animals every day and enjoys helping pets live their happiest lives with their families.
Dr. McKissick enjoys being active outside of the hospital too, spending her free time traveling, hiking, wine tasting and jogging. She has two pets at home - a Greyhound named Autumn and a cat named Nittany.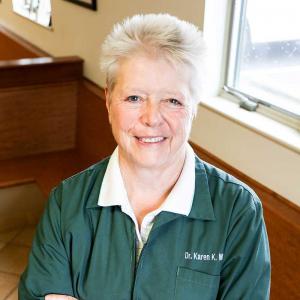 Dr. Karen Miller

DVM, Retired
We thank Dr. Miller for her many years of service to the animals and pet parents in Buckeystown and the surrounding area. She grew Buckeystown Veterinary Hospital into the thriving business it is today and has truly made a difference in this community. We wish Dr. Miller all the best in her well-deserved retirement!
Staff
Erica Raum

Practice Manager
Maryland native Erica Raum became Practice Manager at Buckeystown Veterinary Hospital in September 2022. Prior to that, she was Practice Manager at our sister hospital, Mount Airy Veterinary Associates and Director of Rescue Operations for 8 years at Gentle Giants Draft Horse Rescue.
Erica has always had a passion for animals but also loves working with people. A career in the veterinary industry gives her the best of both worlds. She values supporting the growth and development of the people on her team, which in turn helps them provide better care to our patients.
A foodie who also enjoys knitting and kayaking, Erica's favorite thing is spending time with her young son. Also part of her family are a pitbull mix named Piper, cats Peter, Norbit, Tyrion, Peaceful and Arie as well as five horses.