We Welcome New Veterinary Clients
from Frederick County & the Surrounding Area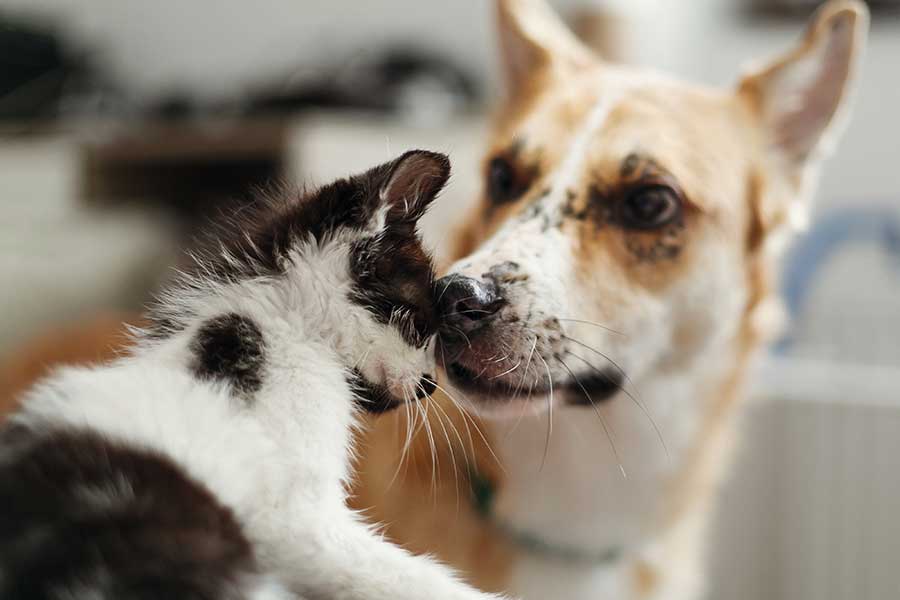 Buckeystown Veterinary Hospital is always accepting new clients. You can rest assured your animal's best interest is our priority. Whether you require care for domestic pets, exotics, or farm animals, our team of veterinarians will certainly meet your needs. We regret that we do not, at this time, provide veterinary care for birds and reptiles.
New clients must schedule and participate in an initial wellness exam prior to receiving any additional services. It is necessary for our veterinarians to perform a complete check-up to diagnose problems and determine a course of treatment. Simply contact our office to schedule your New Client Appointment at (301) 698-9930.
From your first phone call, our staff is pleased to answer any questions you may have or advise you about our general policies and procedures.
If you own farm animals, be sure to visit the Farm Animal Care page of our website. We offer farm calls for large animals such as horses, cattle, sheep, alpacas, and llamas. We have extensive veterinary experience with the care of these specialized animals and are pleased to discuss the development of a breeding program or herd care plan with you.
The following policies may assist you in feeling comfortable and knowledgeable about our appointment protocols, payment expectations, and animal surgery procedures.
---
Appointments
We are happy to see clients by appointment. While we will attempt to accommodate walk-ins, we find that scheduling appointments ensures that each animal receives the attention it deserves in a timely manner. Please arrive 10 minutes before your scheduled appointment to allow time for check-in and any necessary paperwork.
For new patients, please arrive 20 minutes early to complete the first-time registration and check-in process.
Drop-off Appointments
If you are unable to be present for your pet's check-up, arrangements can be made to leave your pet here for the day (for a small "day board" fee) to receive the attention it needs. However, if your pet is sick, it will be necessary for you to be present for a brief session with the veterinarian so that the pertinent history and diagnostic or treatment plan can be discussed.
If you are coming for boarding or grooming and you have a medical concern about a problem with your pet, please let us know when making the appointment; we can allow time in the schedule for you to meet with the doctor before dropping off your pet. Don't miss the information on our Pet Boarding and Pet Grooming pages.
Note: All new patients must have an appointment with a veterinarian with the owner present before drop-off medical or surgical services can be performed.
Payment & Insurance
Payment for all services is expected at the time of patient discharge. This policy applies uniformly to routine appointments, sick patient care, hospitalization, and surgery. Likewise, payment for farm calls, including emergencies, is expected at the completion of the farm call, before the doctor leaves the farm. We are proud to work with CareCredit for unexpected medical expenses; our staff can help you with applying for this service if needed.
In rare circumstances, other arrangements may be made with approval of both the veterinarian and the office manager BEFORE services are rendered.
We accept cash payment and the following forms of compensation for veterinary services:
Check
Debit
MasterCard
VISA
Discover Card
Many pet owners are now purchasing pet insurance to help them afford health care for their pet family members. The staff of Buckeystown Veterinary Hospital is pleased to provide you with copies of your pet medical records for submission to your insurance company for a small copying fee or to contact your insurance company for pre-approval. Simply discuss the matter with the receptionist at your next appointment or contact us [link to footer] for more information.
Download a copy of our Financial Policy to review at your convenience.
The following is a list of pet insurance companies you might like to explore:
Please research each pet insurance company you consider to be sure it offers the right plan for you and your pet.
Surgeries
Check-in for surgery is between 8 and 8:30 a.m. on the morning of your pet's procedure. If you are unable to drop-off during this time period, arrangements can be made to drop-off in the last half-hour before closing time on the previous evening at no additional charge; please let us know in advance if you require this service.
Food should be withheld beginning at 8 p.m. the night before surgery, unless the surgeon has issued other instructions. Your pet should have water until the time of drop-off. If your pet is diabetic or takes daily medications that require food be given, please speak with one of our veterinarians for special instructions.
All surgery patients must be up to date on required vaccinations and, in the case of dogs, heartworm testing and preventive.
Overnight Care
Buckeystown Veterinary Hospital is unable to offer 24-hour supervision to pets in our care. If our staff feels that your pet will require round-the-clock supervision by a veterinarian due to illness or injury, they will discuss options regarding transfer to a local animal emergency clinic.